Choosing the Best Glasses for Your Face's Shape
---
Measuring Up for Your New Glasses
Hopefully you've selected the perfect shape of glasses for your face. Now, the next step is to ensure you choose a pair that fit correctly.
There are three numbers that describe the size of glasses – and these are presented in this format: 55-18-142. These numbers relate to the frame width, bridge width and temple length respectively. The unit of measurement for each is the millimetre. You'll see all three numbers clearly included on all of our product pages.
Let's look at each number in turn: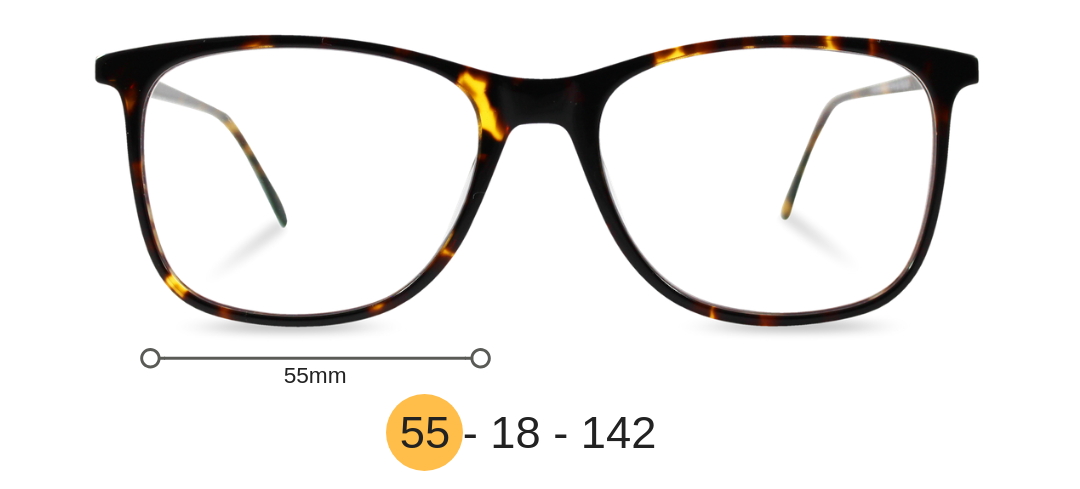 The first number (55 in the example above) gives you the width of one lens. Focusing on this number will provide the clearest idea of how wide your new glasses will be. It's best to choose a width that's appropriate for you, based on how far apart your eyes are set.
Frames that are too narrow can make your face look wider than it really is, while over-wide frames will make your face appear very thin, and can leave your eyes looking as though they're too close together. Ideally, you should aim for a balance, where your eyes look through the centre of each lens, and the width suits your face's dimensions.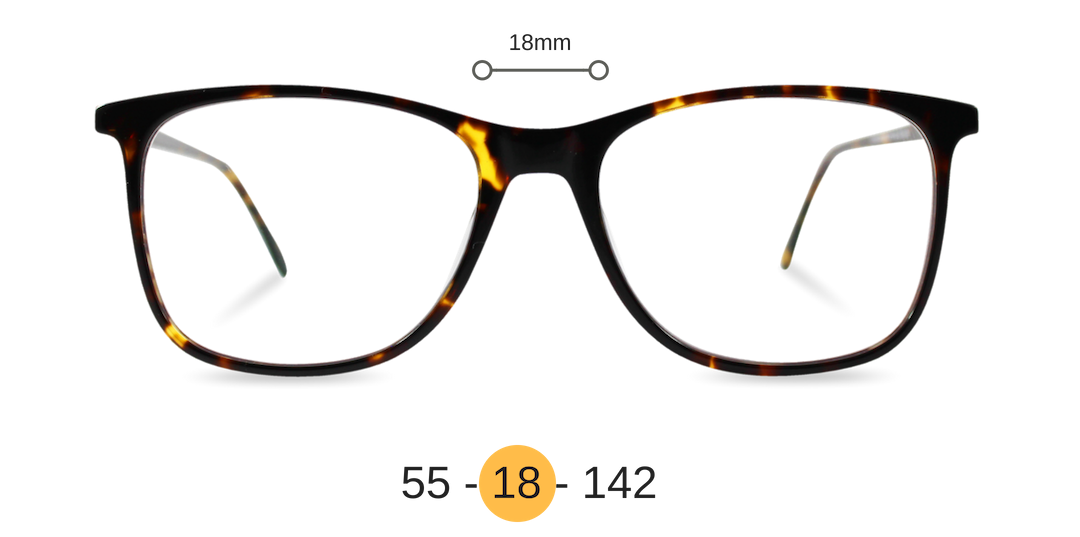 The next number (18 in our example) shows you how far apart the two lenses are set. Looking closely at how wide apart your own eyes are, and how broad the bridge of your nose is, will give you a good guide of what to look for here.
If you have wide-set eyes, and a broad bridge to your nose, then looking for a larger bridge width is important, and we recommend a bridge width of 18mm or higher. If you have close-set eyes, and a small bridge to your nose, then you should select frames with a bridge width of 18mm or lower.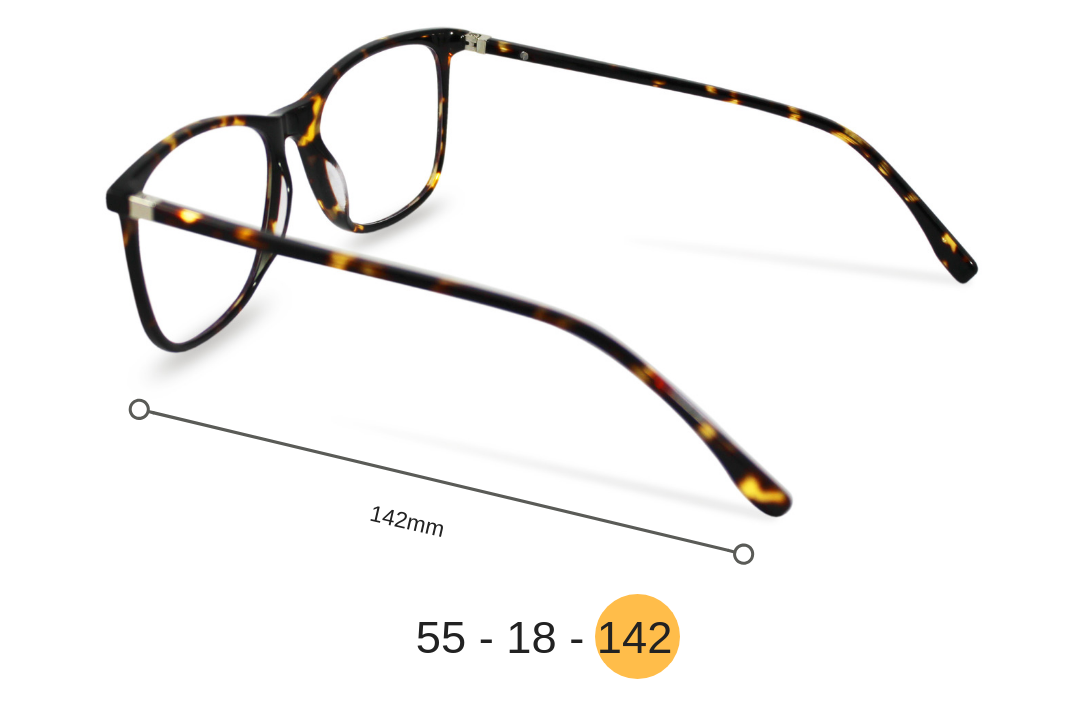 The final number shows the length of the glasses' arms. Most of our frames have 140mm arms, which is the standard size best suited to most wearers, but we have frames available between 135 and 145mms – perfect for the vast majority of our customers.
If you already wear glasses, then you'll probably have noticed if you need longer or shorter arms than average. If not, looking at how far back your ears are set will help you to judge (the further back your ears lie, the longer the arms should be).
As we've seen, opposites attract! So, angular or square frames can work best if you have a rounded face, while rounder frames can complement a squarer face.

Think about the width of your face, and try to pick frames that will match this, and fit correctly.

Don't forget to match your frames with your overall style! Choose a look that will work with the clothes you wear, the cut and colour of your hair, and the kind of makeup you like to apply.

Your frames should sit against the bridge of your nose – not against your cheekbones.

Try to pick frames that won't hide or sit against your eyebrows.

When choosing sunglasses, don't be shy about choosing an oversized look – larger sunglasses can look great, and may shield your eyes from more of the sun's rays.

Finally, never forget that it's your own face! We've offered lots of hints and tips, but the choice is yours, and the key thing is to choose frames that you'll feel good about wearing!
---