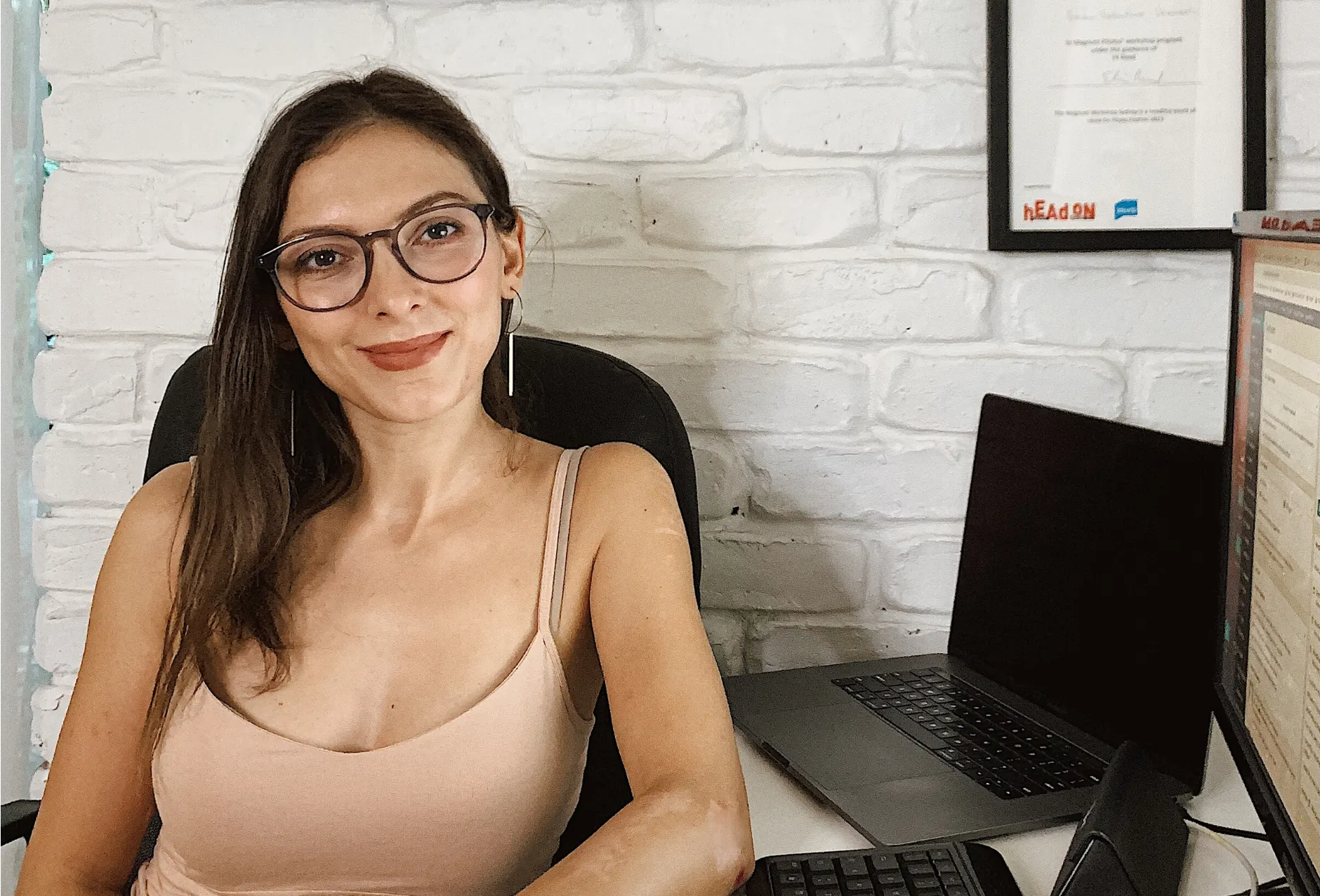 Photo By: Inna Ishchenko @Inna_tevi
Interview With Marketing Specialist Inna Ishchenko

Inna Ishchenko is a Marketing wizard, traveller and content creator of the Instagram account @inna_tevi. Inna and I have been working together for the past couple of years after connecting on Instagram and thought it would be great to shed some light on the work she is doing and hoping to capture bits and pieces of valuable tips on digital marketing. Please enjoy this interview, and I hope you can learn something new today.
Can you tell us a little about yourself?
I am a marketing specialist, passionate about building human connection in a digital space.
What drew you to marketing in the first place?
I asked a friend to show me how to build and manage a simple template website just as a catalogue for the holiday houses that I was managing more than ten years ago. Then I had discovered that people found my website on search engines without any promotions, and I had even had a few bookings from random online search terms when people were researching the information about the destination to plan the trip.
Since then, I have become curious about how does the online space work and try to expose myself to various marketing works. When I realised that marketing is a very complex process, which requires practice and theoretical knowledge, I enrolled in the Masters of Marketing programme in one of Sydney universities. It helped me to gain a better understanding of a professional marketing world (I wish I had my computer glasses back then writing those numerous assignments for hours! This would make my uni life so much easier!)
Now I am creating online and offline marketing strategies for brands, where you need to juggle between multiple marketing and promotions channels, but the number of options that help you to reach your audience make the job even more exciting. The sky is the limit.
What's your favourite thing about your job?
It is super versatile, and there is always something new to learn.
My job combines two worlds – online and offline. I love organising and attending promotional branding events and getting to know the customers offline.
There are lots of different things involved, like SEO, strategic and analytical thinking, an eye for design, creativity, knowledge in different design software and a simple human empathy. So, for me, marketing is a whole exciting universe that does not have any boundaries.
What do you find most challenging about your job?
To find more hours in a day to fit more marketing activities. I have so many ideas, but sometimes you have to prioritise and cannot fit everything in one marketing plan and one budget.
If you can share one tip for someone who also wants to start creating content on social media, what would it be?
Content creation is one of my favourite parts, and I create content for a few businesses.
It is essential to understand the latest social media, visual and strategic trends. I see so many accounts who struggle to catch attention even with a big budget. Great content is still the key.
There are plenty of online content creation courses, and you need to find a good one.
If you want to become a social media manager and create content for brands, one way is to develop your personal page or/and a social media public page – one of those pages who curate user-generated content. Use your own content and mix it with UGC in one feed.
For example, if you like cooking, create a foodie page or if you like travelling, create a travel page and try to grow and develop it. This will be your portfolio, that you can show to your potential clients to sell your content creation services.
To be a good content creator, you will need to learn photography, videography and animated content creation. Download mobile photo and video editing apps to learn how to create cool content on your smartphone, play around with different apps – this will make your content creation much easier. I have a mobile content creation course on Udemy called 'Stunning photos with your mobile device | Mobile editing'. You are welcome to jump on board to learn with me!
If you have a friend who owns a business, you can ask to take over their page for free to create nine posts for them. Nine posts will allow you to create a new feed look. You can also use it as your portfolio, and this will add you additional points to score content creation gigs.
If someone were interested in becoming a Marketing Specialist, what would be a few things you would suggest?
First of all, you will need to be really passionate about marketing, as you will have to learn something new continually.
I learn all the time in my spare time. I read marketing books, listen to marketing podcasts, watch marketing Youtube videos, read marketing blogs on different languages and book mentoring sessions with successful bloggers and marketers to know about the latest secrets and techniques. Learning also helps me win situations when you lose your motivation and excitement.
Apart of technical skills and theory that you can learn online, you must have the experience, so I strongly suggest to volunteer as a marketing or PR assistant to understand how everything works and to complete some practical tasks.
Other than wearing EXYRA glasses :) what are your top tips to improve yourself professionally?
Learning at every spare moment and networking with like-minded professionals.
What is your personal definition of the term creative?
Thinking out of the box and combining different fields, techniques and styles.
Copying ideas of other creators is okay, while you are using it for the base for your new creations and bring your own addition to it.
Finding your own source of inspiration and knowing the famous digital and physical artworks and lots of practice will help to improve your creativity and the quality of your works.
How do you switch off?
I go for a one or two days adventure outdoor to explore national parks and visit new places. Changing of surroundings simply would not let your hand reach to your phone or laptop, well I still want to take photos going on a trip! An active exercise, swimming pool or a yoga class is another great way to switch off.
I hope you enjoyed this interview with Inna and make sure you give her a follow on Instagram.
And if you want to keep updated on our next interview, feel free to sign up for the newsletter below. The newsletter also features some of the valuable blog posts such as productivity tips, wellness, and lifestyle.