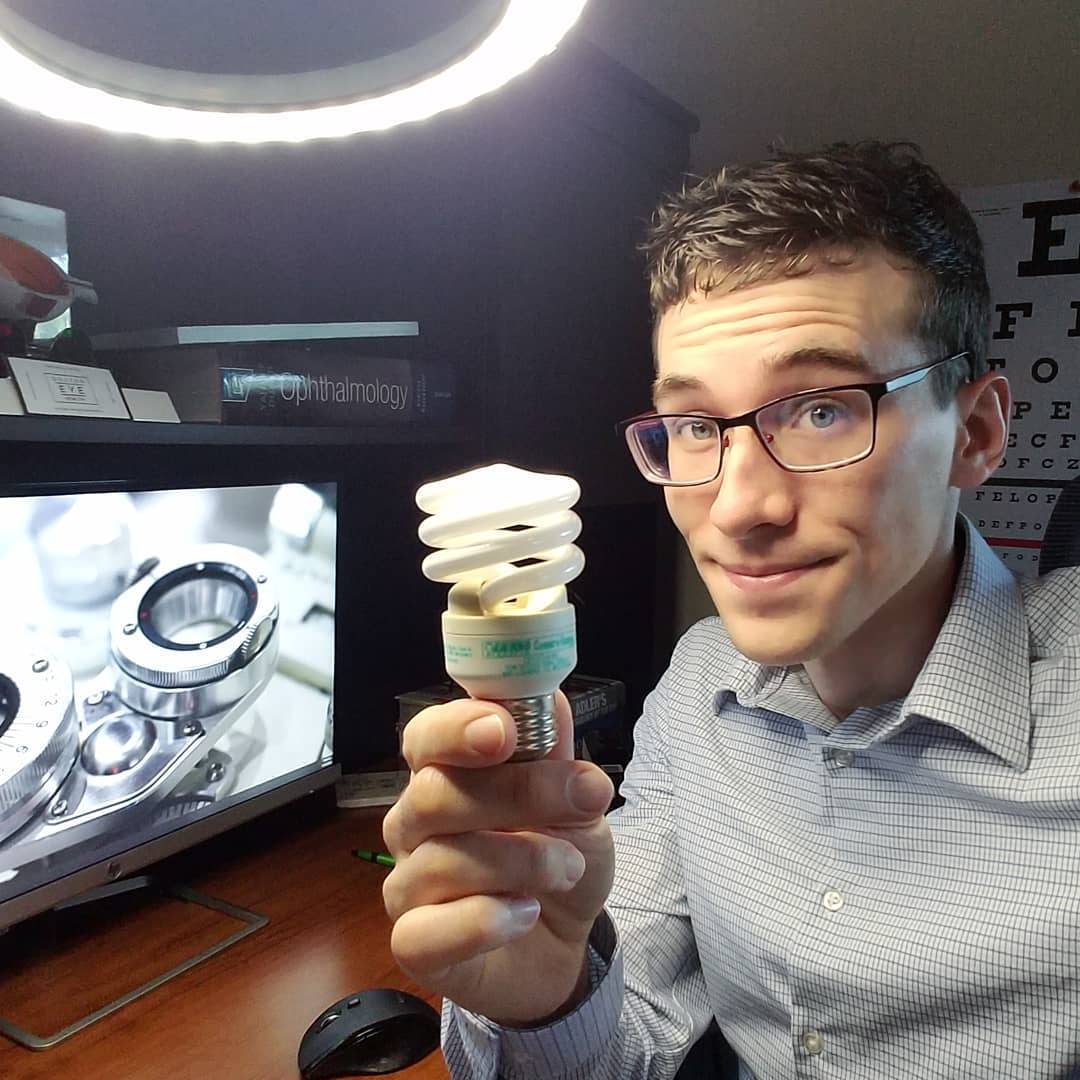 Photo By: @doctoreyehealth
Interview With Dr Joseph Allen A.K.A
Doctor Eye Health

Today's interview features Dr Joseph Allen. Joe is a CEO of Vision Excellence Eye Consulting LLC and the host of the Doctor Eye Health YouTube channel. He specialises in helping people learn about eye disease, vision and finding the best vision products.
Joe has built up an impressive following on his YouTube Channel, a platform where he regularly shares best tips and education about the eyes and vision.
This interview gives you some insight into his work and some tips and ideas for anyone that has burning desire to elevate their personal brand by creating a valuable content in YouTube.
Can you tell us a little about yourself?
I received my doctorate degree with high honors from the Rosenberg School of Optometry in San Antonio and performed a hospital-based residency through the Minneapolis Veterans Affairs Medical Center. I am board certified by the American Board of Optometry and a Fellow in the American Academy of Optometry.
What inspired you to start your YouTube channel Doctor Eye Health?
There were many motivations that drove me to start the channel. It is very common to see patients in the clinic who first consulted Dr. Google about their symptoms and often these same patients either come in with completely incorrect knowledge about their health or even have delayed seeking proper treatment. I also recognized that we are in a world state where anyone can post information on the internet, whether it is factual or untrue, and unfortunately many companies are trying to take advantage of this and marketing their inferior healthcare products directly to the consumer and taking advantage of people's ignorance.
Shortly after I purchased my home in 2017 we had several appliences break down on us and I had to learn how to fix them myself. Like so many people I found myself searching on YouTube for a "how to" video and realized how helpful it was. After about 15 minutes I felt I knew everything about lawn mowers.
So I looked up what information there was about my own profession and found much to be desired. I ultimately figured if anyone was going to create a show about eye care it might as well be me.
What's your favourite thing about your work?
I like to solve puzzles. I try to think of every exam or issue my patients are having as if it is a mystery to be solved. I feel like a detective. So oftentimes the more challenging and interesting cases keep me excited.
What do you find most challenging about your work? 
Unfortunately, many healthcare workers would probably agree with me in that dealing with insurance and the paperwork/ computerized forms is frustrating. I went to school to learn the knowledge and skills necessary to take care of people, not to negotiate with and play the complex board game which is "insurance".
How do you keep coming up with material/content for your channel?
Oh I don't think I can ever run out of material. I have a list of over 100 videos to make. There are so many eye diseases to cover and explain. New medications and treatments to review. New products which keep coming out every year to tell people about. Plus, my viewers ask some of the most amazing questions! The hard part is not having the time to make MORE videos.
How do you deal with criticism or viewers who dislike your content?
At first it was tough for me to understand. Some people just plain disagree or have a poor view or understanding of western medicine. Some people just don't like doctors. Some people just like to be negative I guess.
Again, I went to school to learn to take care of people, not to run a YouTube channel. So I am still very new to this, even after 2 years of doing it.
If people give me constructive feedback, I take it to consideration and try to improve on things (such as people telling me my background music was too loud). While people who harass or create hateful comments I just shrug off and remove them from the channel. You can't please everyone. I am just trying to follow my own truth and help people in the process.
What do you think is the best strategy that worked well for you to get more views to your channel?
Answer the most common or frequently asked questions. One of my most viewed videos ever was the 2nd video I made. I wrote the video on the spot after a day at the clinic. I just thought of "what is the most common question I get every day?" If you were to look through my video library, I am mostly just answering questions people ask either in the clinic or online.
If you can share on tips for someone who also wants to start creating content on YouTube, what would be a few things you would suggest?
Don't give up. Do not be surprised when nobody watches or subscribes for at least 3- 6 months. It is very difficult for people to find you and get discovered. But if you keep at it and you continue to deliver value to people, it will eventually start growing.
You also don't want to burn yourself out. I think trying to make 1 piece of quality content a week is a very good goal. But if you are new to the video creative space, that can be a challenge to manage too (especially if you're working full time).
Lasty, focus on the Topic, the Title, and the Thumbnail. If you have a strong topic to talk about that is interesting to many people and your video Title and picture is interesting and emotional, People will be more likely to click on it and watch.
What are your top tips to improve yourself professionally?
Never stop learning. Practice and focus on your fundamentals and read new articles. Keep an open mind about alternative and new treatments.
Do you have a favourite book that has had a great influence/deep impact on your life or career?
The Gifts of Imperfection by Brene Brown and Man's Search for Meaning by Viktor Frankl.
I hope you enjoyed this interview with Dr Joseph Allen and make sure you check out his YouTube channel at Doctor Eye Health.
This interview brought you by EXYRA. EXYRA eyewear is specifically designed to alleviate headaches and eyestrain by blocking high energy blue light emitted from digital devices. That way, you can enjoy more your screen time, better night's rest and get most of your digital life without compromising your style.
Thank you so much for reading this interview, if you have questions or suggestion please do get in touch and email us at shop@exyra.com.au.
ALL IMAGES COURTESY OF:

@Doctoreyehealth